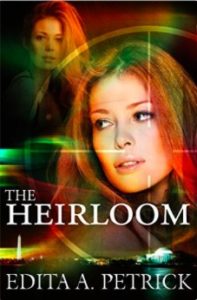 RATING: 5 out of 5 Stars
I flew through this book! THE HEIRLOOM by Edita A. Petrick was a fast paced mash-up of CIA/FBI spy novel, supernatural novel with a witch's heirloom locket that protects the rightful heir, corporate corruption by a cadre of CEO's, and a psychologically damaged hitman who always succeeds. Scientific and supernatural coexist side by side throughout this fast paced thriller with romantic elements and irreverent humor.
CIA Agent Ted Bester "Beast" is called in to work with his counterpart in the FBI to solve a series of brutal killings that are all tied to a scientific conference on cold fusion that could radically change America's energy dependence. The FBI has a source for him. Amelia is in an FBI safe-house because she was killed by the same hitman he is trying to find. (Yes, you read correctly – killed!)
Amelia now goes by 'Randi" and is a doctor who was set to testify against corrupt pharmaceutical companies. Her heirloom amulet is passed down to first born daughters in her family from an ancestor witch from Salem who cursed all who harmed the owner. She survived her execution and is now able to sometimes slip into the hitman's mind because he stole the amulet as a trophy.
The two work together with all the secondary characters you would expect in a usual spy thriller to find and eliminate the hitman and retrieve the cold fusion documents before they can be turned over to a foreign government.
Ms. Petrick has written a fast paced thrill ride that brings together many different genres into one. Even with all the characters and subplots, the writing is crisp and never confusing. This is a creative story with unexpected twists, especially in regards to the hitman.  The characters are well developed and believable. I cannot recommend this book enough and I can't wait to read more from this author. If you want something different and well written, this is it!