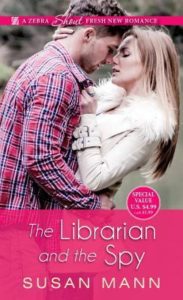 RATING: 5 out of 5 Stars
I have just read an absolutely charming and entertaining start to a new series called The Librarian and the Spy (Librarian and the Spy Escapade #1) by Susan Mann. Not only did I love all of the characters, I learned many things I never knew about reference librarians and their jobs. This book had me laughing out loud and turning the pages as fast as possible as the mystery and suspense took off.
Quinn Ellington is a reference librarian who loves her job solving questions for her library patrons, but she also longs to travel and experience adventures like her favorite spy thriller heroes introduced to her by her grandfather. She hates all the stereotypes of librarians because she grew up as a military brat with a Marine father who taught her to shot and three older brothers that she has always completed with.
On an ordinary day at work, insurance agent James Lockwood comes up to the desk and asks Quinn for her help researching some pieces from a private collection. Quinn can't believe her luck because not only is James gorgeous, but he has a British accent to die for. As Quinn becomes more involved in helping James, she realizes that all this research is not simply for insurance purposes and James has not been completely truthful with her. He is not British and he is not an insurance agent.
As Quinn and James work together to solve an important puzzle to stop an international arms dealer from acquiring nuclear material, Quinn's intelligence and abilities become a major asset. She is very capable of thinking on her feet and James becomes even more impressed.
Their cover and flirting as a married couple leads to real feelings that they try to control until the end of their mission. This story has a lot of witty banter, flirting and a steady buildup of their chemistry to a relationship. No sex until the end and it is behind closed doors when it does happen. Even when the plot has been resolved, there is a great twist at the end of the book.
I really enjoyed this book and I was very happy to see that it is a proposed series and not a standalone. I was impressed by the fact that this is Ms. Mann's first book. A fast paced plot, interesting facts, and entertaining characters make this worth the read. I am looking forward to James and Quinn's next outing!
Thanks very much to Kensington Books and Net Galley for allowing me to read this eARC in exchange for an honest review. I am looking forward to many more books in this series.