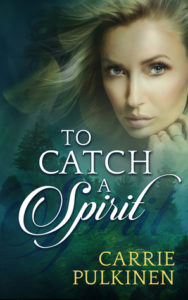 RATING: 4 out of 5 Stars
TO CATCH A SPIRIT by Carrie Pulkinen is a paranormal contemporary romance that pairs two unique characters in an emotionally charged romance and ghost story.
Allison Gray is a psychic who works to help heal people, cleanse antiques of trapped spiritual essence and is afraid of ghosts after a failed ghost-busting assignment. While attending a party with her best friend, Tina, Allison is immediately struck with emotions of loneliness and despair emanating from their host. She wants nothing to do with the new playboy billionaire in town. Instead, she goes to console a crying woman sitting on the stairs only to have her disappear right before her eyes.
Logan Mitchell is the playboy billionaire throwing the charity party. Logan has moved to Detroit to start out on his own and away from his controlling father. Underneath the shell, Logan is hiding being an empath who has no control over his gift, which has led to attacks of OCD symptoms and other problems. When he sees Allison, he knows she is different and he can't stay away even with a frightening recurring dream, which is the reason he doesn't do more than one night stands. Before he gets the chance to introduce himself, she runs out the door.
I loved Allison and Logan. Their relationship was immediate, but it was believable because of their gifts. The author wrote about OCD, fears and suicide with great empathy. The H/h were sympathetic and not just caricatures. The sex scenes were hot and steamy, but never overdone. Both of their best friends were also realistic and fully fleshed out. There were a few times that the story slowed down and was a little repetitive, but overall it was well written. The plotline is predictable, but with the handling of the H/h's gifts, it is still very entertaining and well worth reading.
Written for and posted first on The Romance Reviews.com.