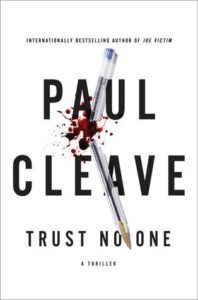 RATING: 5 out of 5 Stars
TRUST NO ONE by Paul Cleave is an edge-of-your-seat psychological thriller that has the reader and the crime writer narrator continually trying to decide what is reality and what is fiction.
Jerry Grey is a fictional crime writer who uses the pseudonym of Henry Cutter for his novels and has been diagnosed with early onset Alzheimer's at the age of 49. He begins to keep a "Madness Journal" to follow his progression into Alzheimer's, but he still is not sure if he can trust what seems real or what are remembered parts of his works of fiction caused by his disease. He confesses to crimes he has written about in his published novels to the police. At first, no one believes his confessions that they perceive to be caused by the dementia progressing in his mind, but dead bodies are turning up and the evidence is mounting against him.
Paul Cleave has written a thriller that makes you question everything you read and question all the characters' motives. You cannot make any conclusions due to the unreliability of the protagonist as storyteller and yet the plot progresses forward at a faster and faster pace. Every scene and character are important. If you love this book as much as I did, wait until you read the ending. I believe it is perfect for the story, but your emotions are going to be all over the place and it can be debated endlessly. Fantastic book!