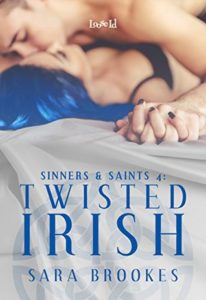 RATING: 4 out of 5 Stars
I am completely surprised by how much I loved this hero and heroine. I was not sure what to expect with a biker club BDSM contemporary romance, but Ms. Brookes has written a romance that delivers!
TWISTED IRISH (Sinner & Saints Book 4) by Sara Brookes opens at the Riding Irish Biker Club's Valentine's Day cookout on Oahu. Olivia Woo is invited by her boss from the tech company she works for, who also happens to be the president of the club. She is always chasing excitement, danger and chaos in her computer simulations and real life. Secretly she runs simulations of BDSM sex. She is not sure if it is right or wrong, but she wants to find someone to help her explore her fantasies. Looking for a place to evade all the men she is being introduced to at the cookout, she finds the club's secret basement dungeon.
Jon Swagger has worked hard to keep his darker side in check since leaving the Marines. He has been afraid that no one will ever understand his killer past and has only had casual sexual encounters, but the rest of the club is finding love and he finds that he wants that for himself. He is a DOM and designed the dungeon and a very special chair that plays an intriguing part in this story. When he sees the blue haired vixen, he is immediately drawn to her. When he catches her in his dungeon, he wants to give Olivia the sexual experience of her life. What neither of them expects is that they are exactly what each of them needs.
This is a short book that is full of empathy, exploration and love between the H/h. It does make references to previous situations from previous books in the series, but not enough to confuse or detract from this story. The sex scenes are well written and extremely explicit, sexy and hot. This story is well worth the read for a fast romance and romantic introduction to BDSM.
Written for and posted first on The Romance Reviews.com.