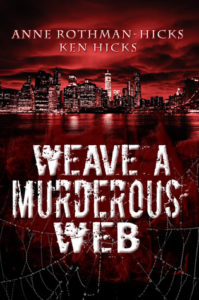 RATING: 4.5 out of 5 Stars
WEAVE A MURDEROUS WEB by Anne Rothman-Hicks and Ken Hicks is a fast paced thriller full of duplicity and a twisted murder mystery featuring a strong, smart-mouthed female protagonist who narrates the story. Even though the main character is a lawyer and it begins with a custody case, it is not a legal thriller set in a courtroom. This book is the second in the Jane Larson series, but it is easily read as a standalone.
Jane Larson is an intense litigator for a major New York City law firm who does not like to lose. An associate in her firm asks Jane for her assistance for a friend in a simple divorce and custody case. The case turns out to be anything, but simple. Jane's client, Gail Hollings is only interested in how much money her ex is hiding from her. The associate, Francine is more of a mother to Courtney than Jane's client. The ex is a slimy attorney with mob associates and dealing drugs on the side until he turns up dead.
Jane finds that every person involved in this case has a secret or motive to hide and they all could be the killer. As she delves deeper, her friends and enemies warn her to get out, but Jane just has to figure out what is really happening and why. It could cost her more than just the case.
Jane is an intelligent, witty and dogged main character. Even after several attempts on her life, she just has to find the answers to what is really happening. The plot is fast paced and full of twists and red herrings. The only problem I had with this story was the number of characters involved. They all seem important, but you also need to keep a score card to keep all of their relationships straight. Other than that small point, I would definitely recommend this to all who love a strong female protagonist and/or a tightly woven thriller.