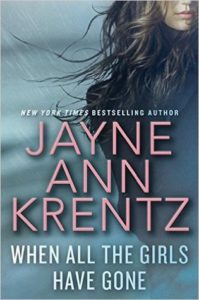 RATING: 5 out of 5 Stars
When I want to curl up on the couch with a comfy blanket and tea to read without interruption, there are a few authors that I know I can sit down with their books and always be satisfied. Jayne Ann Krentz is one of those authors. WHEN ALL THE GIRLS HAVE GONE is one of those books.
Charlotte Sawyer is the average, steady, and some say naïve, director of activities at a senior retirement home. Her step-sister, Jocelyn is beautiful, adventurous and reckless. When Charlotte hears that Jocelyn's best friend from her investment club has been found dead, she tries to contact Jocelyn at the retreat she is on. Jocelyn has disappeared and Charlotte is desperate to find her.
Max Cutler is starting his own P.I. firm after complete burnout from his criminal profiling job and his divorce that followed. He knows the job of finding out what really happened to Jocelyn's friend won't pay, but he is convinced to look into it. Charlotte is trying to find out what happened also and to find her sister so the two join forces.
There are two plotlines intertwined in this story. The investment club's members are being targeted and disappearing and you have Jocelyn's 16 year old rape case that was purposely derailed. Power, privilege, an escalating serial rapist and a friend that may not really be a friend all are fighting to silence Charlotte and Max.
Charlotte and Max were perfect together. Charlotte is very much the steady, optimistic character that isn't boring, even though she believes she is, but you would want to have in your corner. Max is down and considers himself boring, but Charlotte sees him as steadfast and talented in his profession. The banter between these two had me smiling several times and the sex was well written. I liked that these characters weren't looking for a relationship, but they fit.
I enjoyed this story and these characters as much as I knew I would. Sometimes in my romantic suspense reads, I don't want super testosterone alpha males and either their matches in female form or the little woman that they rescue. Sometimes in my romantic suspense, I want normal, everyday characters that come together to become something more and when that happens it is great. Max has two 'brothers', so I expect this to be a trilogy.
Thanks very much to Berkley Publishing Group and Net Galley for allowing me to read an eARC in exchange for an honest review.