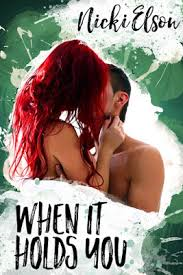 RATING: 5 out of 5 Stars
Nicki Elson has become my MUST read new contemporary romance author!
WHEN IT HOLDS YOU, just like her previous book When It Hooks You, has characters that are fully fleshed out and true to life in both dialogue and plot. I can relate to these characters on an emotional level that has me up and down and turning the pages as fast as I can waiting to see how Ms. Elson works out the HEA.
Cliff Walsh is back as the main rather than the secondary character in this story. After the emotional roller coaster in the previous book you would think he would be wiser in this story. He is, but not right away. He has a lot of emotional discovery to go through. As he is healing his broken heart, he becomes more involved in online gaming as his social outlet. In the game, he meets a female character that makes him want to try a relationship again and the surprise is that she has been right in front of him for years.
Joanne "Jojo" has always been the wild party girl since college. Cliff had used her and forgotten her, but she never forgot him. Jojo is an amazingly true to life character that you have to get under her outer shell to find the true vulnerability inside. I believe so many readers will be able to empathize with her.
The romance in this book comes together at a realistic pace and has a little surprise twist. I thought the author was going to choose a different heroine, but she took the more difficult path and it worked beautifully. I love that Cliff found what is truly important and Jojo was willing to take a chance. The sex is hot, but the emphasis is on emotions in this book. They really are made for each other.
This book can be read as a standalone, but the characters are carried over from the first book and their back stories do help you understand more of their emotional growth. Fall in love with the characters and the author's writing and read them both!
Written for and posted first on The Romance Reviews.com