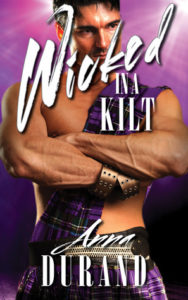 RATING: 4 out of 5 Stars
WICKED IN A KILT (Hot Scots #2) by Anna Durand is an extremely steamy contemporary romance! It seems all the MacTaggart brothers are wickedly hot and irresistible in their kilts.
Aidan MacTaggart has decided to come to America to find himself a wife. His brother, Jamie is now happy and settled and he wants that for himself. He intends to follow every step his brother took to find his own American bride.
Calli Douglas has come out of her self-imposed five year seclusion to be in her cousin's wedding. Calli mistakes Aidan for the stripper that is supposed to be preforming at her cousin's bachelorette party. Well he was in a kilt and too beautiful to be true. What she does not expect is her instant attraction. Callie has sworn off love and romance and is bound by a promise to someone else, but everything changes when faced with one very determined Scot.
Callie and Aidan are both instantly attracted, but because each harbors a large secret that could destroy their budding relationship completely, the pace of their relationship is slow and steady. Both have many obstacles not just with their new relationship, but with trust issues, past relationships and family that I feel this author handled very well. The sex scenes are frequent, extremely hot and explicit. This is one determined Scot out to seduce his American beauty!
Written for and posted first for The Romance Reviews.com.