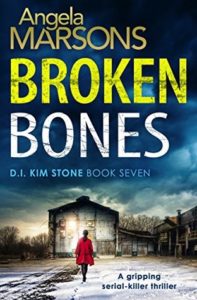 RATING: 5 out of 5 Stars
BROKEN BONES (D.I. Kim Stone, #7) by Angela Marsons is an intricately woven web of clues under investigation by Kim and her team that brings together international sex slavery, illegal immigrant exploitation and prostitution into a realistic and brutally honest story. Once again, I can highly recommend this book and series!
It is Christmas and as D.I. Kim Stone is leaving the station, she finds a baby abandoned on the steps. As the team comes together to watch Kim deal with a baby, a call comes through for Kim and her team of a murdered prostitute. As Kim and Bryant follow the trail of clues, they get pulled into a world of not only prostitution, but also the grooming and entrapment of young girls into modern day slavery and gangs.
At the same time, Stacey and Dawson investigate to find the mother of the abandoned baby. Their investigation leads to a factory of Romanian workers that just does not seem quite right and a dead Romanian man, who appears to be a vagrant. As they work the clues, they are introduced to a world of illegal immigrants forced into indebtedness that will never be overcome and is therefore just a form of slavery.
At first, there appear to be too many threads to follow and I was not sure of how all of the plotlines would come together, but under the deft plotting of Ms. Marsons everything all tied together beautifully with a very surprising ending. I believe all of the issues covered throughout this book were handled with truth and empathy, including the revelations in the main characters lives. Kim, Bryant, Stacey and Dawson are a realistic group of investigators/characters that have all grown in various ways throughout this series. Another great addition to the series that can be read as a standalone, but I believe if you give it a try, you will become as hooked as I am and read the whole series.
Thanks very much to Bookouture and Net Galley for allowing me to read this eARC in exchange for an honest review. I hope this series continues on for many years to come!