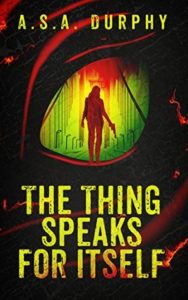 RATING: 5 out of 5 Stars
THE THING SPEAKS FOR ITSELF by A.S.A. Durphy is a unique thriller, gritty detective mystery and a psychological journey all rolled into one page-turning unstoppable read. Serious, violent and comedic all intertwined with characters that stick with you.
Gracie Stratis has moved on from the mayor's office to training for the Diplomatic Security Service to fulfill her need to travel the world. When her current diplomatic security detail gets attacked, Gracie is seriously wounded and almost dies. She returns to her home in Oakland for months of rehab and recovery. Gracie believes in just pushing through and while this may help with her physical recovery, it leads to some interesting moments in her mental recovery.
Gracie's family consists of her younger brother and three of his friends. They all grew up together and are all happy that even under the terrible circumstances that Gracie is home. When one of their group goes missing, Gracie is determined to find him.
As Gracie digs deeper into the disappearance, she discovers deception from those she trusted. She is pitted against a corrupt corporation, bribery of government officials and a security team willing to do anything for money. All she has is her skills, with a recovering and still untrustworthy mind and body, a private detective hired by the missing friend's parents and her ragtag group of a family.
I love a strong female lead. Gracie just doesn't investigate, she throws in a figurative grenade to see what happens and moves forward from there, no matter the devastation to herself. All of the characters are fully fleshed out and make the story come alive. This story is written in a fast paced format that has each family member narrating at different times throughout the story. This style is a little different, but the story and action pull you in and make the narration changes interesting rather than annoying. I am definitely looking forward to reading more about Gracie and her future adventures.