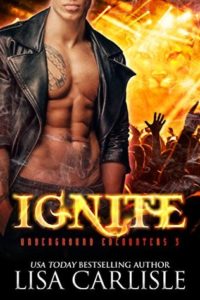 RATING: 5 out of 5 Stars
IGNITE (Underground Encounters Book 3) by Lisa Carlisle is now my favorite of this series!
Vamps underground nightclub is the epicenter of each book in this paranormal romance series that are all easily read as standalone stories. Ms. Carlisle's world of vampires, shifters, witches and gargoyles just keeps getting better and better.
Book 3 has Lily Everett celebrating a promotion with her friend at Vamps. Lily works hard at her job, works out hard at the gym and is an avid reader who has occasional sex with no commitments. Lily's night out is interrupted by The Velvet Cocks lead singer and she is not thrilled until she hears him sing. He has a sensual voice that captivates her. Lily is interested, but very guarded and a loner because she has a furry secret that she never shares.
Nico Bedrosian aka Leggy Bones is a rock star by night and a computer geek by day. He is intrigued by the golden eyed beauty who does not seemed interested in him. He gets Lily to let him in enough to be a friend with benefits and those benefits are extremely hot!
Real feelings begin to grow on both sides, but Lily refuses to share why they can never be together. Nico wants to break down Lily's walls and find out why she is so afraid to commit, but can he really handle the truth?
Lily and Nico are both well fleshed out characters that have many layers to their personalities that make them unique. You can feel for Lily having to grow up with her secret and being too afraid to share. Nico is just perfect with his rock star looks and voice, literary knowledge, geekiness and English accent. These two have explicit, steamy, smokin' hot sex scenes throughout the story, but they are well placed and realistic to the building relationship.
Ms. Carlisle has built an intriguing paranormal world around Vamps and each book has increased my interest and love of the series. I cannot wait to see who will be introduced next!
Written for and posted first on The Romance Reviews.