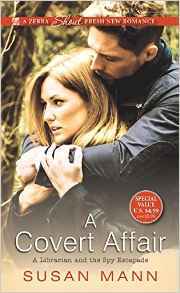 RATING: 5 out of 5 Stars
The second book in the Librarian and the Spy Escapade, A COVERT AFFAIR by Susan Mann is just as much fun as the first! Quinn and James are wonderful together once again on their new adventure through India.
I really feel these books fill an interesting niche. They are action spy thrillers with romance, adventure and interesting, intelligent plots, but they are not as violent or strictly action driven as most in this genre. I like to call these books "cozy spy thrillers" and just what I am looking for to curl up with for an afternoon adventure.
Quinn Ellington has moved to D.C. and is now a reference librarian at the CIA. She will be training at The Farm to become an agent like her boyfriend, James Bond Anderson. Their relationship is progressing and it is because they are close and Quinn has a passionate love of books and knowledge that they are both sent on a mission as husband and wife to the Punjab district in India. To save a kidnapped ambassador's life, they have to find and return a stolen Sikh library of historic and religious books.
Ms. Mann had me completely engrossed in the descriptions of India and especially the Punjab district. Her information on the Sikh culture and history displayed extensive research and it was well paced throughout the story without feeling like an info dump. The Indian characters were believable and empathetic.
Quinn is an empowered female heroine, who uses her intelligence as well as her physical prowess. James is her perfect hunky, spy hero who is also learning to not be overly protective and let Quinn investigate avenues on her own. Their banter is fun and entertaining. The sexual relationship is hot, but not overly explicit. This book can be read as a standalone, but Quinn and James's relationship changes and grows in each book.
This is a series to follow!
Thanks very much to Kensington Books and Net Galley for allowing me to read this eARC in exchange for an honest review.