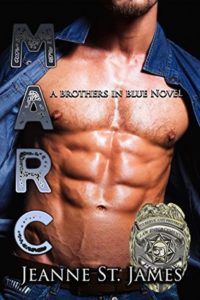 RATING: 5 out of 5 Stars
Another HOT book about a Bryson brother from Manning Grove!
BROTHERS IN BLUE: MARC (Brothers in Blue #2) by Jeanne St. James has the second Bryson brother having to train the new police recruit who just happens to be female. For an alpha male like Marc, who also happens to still believe there should not be any female officers, being made her FTO (field training officer) by his brother the chief seems like a sick joke.
Leah Grant is determined to be a police officer just like her deceased father. She has fought all the stereotypes and risen to the top of her training class to have no one, but Max offer her a job. Manning Grove is very small town to her old home of Philly, but she is determined to make it, even with the chauvinist beliefs of her FTO.
As Marc and Leah train and ride together, their chemistry starts to override their common sense. They try to keep their work life separate from their increasing attraction, but Marc wants her in his bed as much as Leah wants to prove she is as capable as any male officer. The taboo of trainer and trainee does not stop these two, but they do keep it out of work hours.
These two have explosive chemistry in bed and are so perfect for each other. There are explicit sex scenes that are well written and have a surprising appearance of nipple rings and other sex toys. I also loved that Leah stayed at Marc's parents' house when she moved to town so that we continue to be involved with the whole family from Max's story in Book #1. This romance can be read as a standalone because of its own HEA, but the family ties and small town life carry over.
I love that Ms. St. James has made each of these books in this series unique so far. I appreciate that they are not both the same premise with new names inserted. I am looking forward to what happens with the last Bryson boy, if he ever comes home!
Written for and posted first on the Romance Reviews.com.