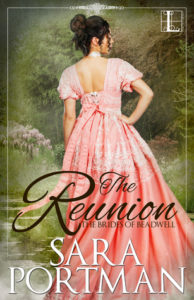 RATING: 5 out of 5 Stars
THE REUNION (Brides of Beadwell, #1) by Sara Portman is a wonderful character driven historical romance that had me hooked from the first chapter!
Lady Emmaline Shaw has grown from an uncertain girl into a strong, independent woman. She had to face the disappearance of her fiancée, John Brantwood, four years ago and not so long after that the death of her parents. She ignores the gossips, has a close circle of friends, and is living happily in the small village of Beadwell.
John Brantwood has returned to claim his family lands and title as the Duke of Worley. Everyone believed he had run off to war and been killed. Not so. Now he is back and needs to quickly find himself a bride. When he is reminded he already has a finacee, he remembers a shy, meek girl, who will not do for his plans, but Emma is no longer that girl and he finds himself liking and needing this strong woman.
A marriage of convenience is agreed upon, but can either keep their hearts uninvolved and safe?
This book is a wonderful introduction to this series and I can't wait for many more. Ms. Portman has written characters that come to life on every page. Emma and John try so hard not to involve their hearts. The subplot of John's sister, Charlotte trying to hide her American past was a great way to show the differences in cultures. The dialogue is witty and fun. The sex scenes are hot and steamy, but not over the top and placed perfectly to enhance John and Emma's relationship.
Overall, just a wonderfully enjoyable historical romance!
Written for and posted first on The Romance Reviews.com.