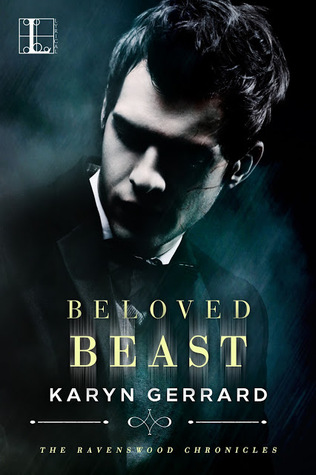 RATING: 5 out of 5 Stars
WOW! My preconceived notions for this book where blown away. I went looking for a book with a different twist and this was definitely it. BELOVED BEAST (The Ravenswood Chronicles, #2) by Karyn Gerrard is a mix of gothic horror, historical WWII romantic suspense and historical WWII spy novel. Even though this is the second book in the series, it can easily be read as a standalone with all the information the author has seamlessly peppered throughout this book.
The debauched Viscount Ravenswood Lucas Madden died from a carriage race accident in 1895 only to be revived in a Mary Shelley like experiment. Unlike Shelley's beast, Lucas has become a man with heightened senses, strength and possible immortality, but he has also become outwardly disfigured, and cool to the touch with a strange gray cast to his skin. He hides his face as much as possible and explains away his strange coloring as 'photophobia vitium'.
Working with his nephew in the emerging MI-6, with his new identity as Luke Newman, he helps relocate returning spies from the war zones in Europe. He is assigned the safety of Gillian Browning, who seduced a German business man for information on the Enigma machine, returned to England, and is suddenly in danger from a German spy.
As the two return to Luke's former home in the country to wait for transport to Canada, Luke cannot believe that Gillian brings warmth back into is body and life. He never believed he would find love again after the death of his wife. Gillian wants the truth about Luke's past and no longer wants her time with him to be limited, but the threat to their lives is catching up to them.
I could not put this book down. The concept made it unique and yet it also read as a traditional historical romantic suspense. There is explicit sex, because the beast has a heightened libido and yet it never felt gratuitous. The plot was well paced and the characters where all fully fleshed out and believable, well as far as you can believe in a reanimated man. I really enjoyed this book and I will definitely be looking for the next in the series!
Thanks very much to Kensington Books and Net Galley for allowing me to read an eARC of this book in exchange for an honest review. Loved it!