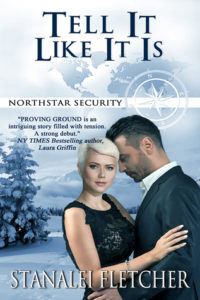 RATING: 5 out of 5 Stars
TELL IT LIKE IT IS (Northstar Security #5) by Stanalei Fletcher is the newest addition to this fantastic romantic suspense series! I believe Ms. Fletcher consistently produces realistic and strong heroes and heroines, interesting suspense plots and romance to heat up the sheets on these chilly winter nights.
Justine Shelby is an agent for Northstar Security who lives and works in California for the D.C. based company. Tiny, white haired and honest to a fault, Shelby has a past that she has worked hard to overcome. Her latest assignment is to be a personal bodyguard/assistant to world famous author Rosalee Kane. Rosalee is writing her memoir and has started to receive death threats. Shelby begins to care for the author as more than just a job and does not want to lose jurisdiction to Rosalee's FBI Special Agent nephew.
FBI Special Agent Nelson Kane has many reservations about Northstar handling his aunt's case from a previous encounter. As the threats escalate, he must put those reservations aside and trust in Shelby to help him keep his aunt alive.
With each turn of the page, you become even more involved with the mystery, suspense and action. Most romantic suspense stories center mainly on the H/h and protagonist, but this book also has a feisty, elderly author/aunt, who is just as smart, young at heart and entertaining as the H/h. Ms. Fletcher's dialogue between these characters is intelligent, funny and sassy. The romance is there and happens without sexual intercourse. I was more focused on the suspense plot and Rosalee. (Not a slight, I just was not as completely into the H/h's romance in this book.) I was able to predict the villain of this tale, but it did not ruin the story for me.
If you have not tried this author or this series, you really should! This book can be read as a standalone, just like the others in this series, but I think once you finish this story, you will want to read the others, too.
Written for and posted first on The Romance Reviews.