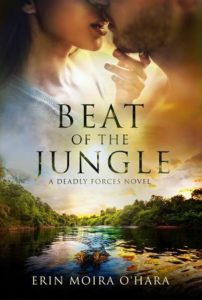 RATING: 5 out of 5 Stars
BEAT OF THE JUNGLE (Deadly Forces #1) by Erin Moira O'Hara is an intense, fast paced and sexy contemporary romantic suspense. Not only are the H/h on the run from mercenaries, but the Amazon Rainforest landscape is as deadly a foe as their human protagonists.
Kitarna Ashford is a botanist who has come to Brazil to join her sister, Bernie's archeological dig. Just as she arrives, she receives a cryptic call from her father, who is a U.S. Governor, for her and her sister to get out of Brazil as soon as possible. The call breaks up and they do not know why or whom they are running from.
Jack Callaghan is an ex-military sniper whose last mission has left lasting nightmares. He has just completed a private mission for a friend and is now on his way to retire in the Caribbean.
After some pleasant, but brief flirting and not quite truthful introductions, their plane goes down in the Rainforest. The remaining passengers and crew that survive the crash, soon realize they are being hunted by mercenaries and must split up and try to reach the closest mission in small groups. Kit and her sister become separated.
There are so many secrets not just between Kit and Jack, but also crew and fellow survivors of the crash. Kit's botanical skills and Jack's military skills may help save the group, but there are hidden motives among the survivors and the Rainforest itself is a beautiful, but deadly paradise.
This author had me feeling the heat of the Amazon. Slogging through the Rainforest with wild animals, bugs and plants that are all beautiful and yet deadly. The knowledge base Kit and Jack both demonstrate was blended seamlessly throughout the story and not just an information dump. The romance builds at a hot and steamy pace even as Kit and Jack fight for their lives and the lives of the other survivors with them.
This was a great read that I highly recommend for lovers of romantic suspense and I am looking forward to reading the next Deadly Forces book which will be Bernie's story!
Written for and posted first on The Romance Reviews.