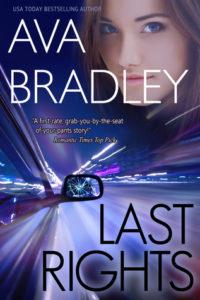 RATING: 5 out of 5 Stars
I have just finished a story by another fabulous new-to-me author who had me on the edge of my seat in suspense, crying and laughing, morally debating cloning and hot and twitchy with short, but steamy sex scenes.
LAST RIGHTS by Ava Bradley was a romantic suspense set in the future that starts from the very first page at jet speed and does not let up.
P.I. Fallon Monroe is sent by her sister to retrieve her nephew's clone for life saving heart transplant surgery. Fallon soon comes to realize this clone is not just a lump of cells, but an exceptionally gifted little boy who calls himself, Jamie. The cloning company does not want people to know the true reality of the clones and a terrorist group wants to set this child up as a symbol to get the country to change the cloning laws.
Special Ops Lieutenant John White is awakened from a medically induced healing coma as Fallon and Jamie burst into his hospital room attempting escape. He does not know why, but he knows he has to protect these two above all else. John and Fallon will do anything to protect Jamie, but each is also harboring a secret that they fear could change the feelings that are beginning to blossom between them.
I did not want to put this book down. The chase and suspense were always constant. Fallon, John and Jamie are wonderfully realistic characters that I fell in love with. Cloning is debated, not just in the hypothetical, but by making you fall in love with characters it effects and makes you think about what you would do and how you feel. I never felt it was preachy because the author made you feel Fallon's heart wrenching decisions as she made them.
This story had everything I am looking for in a romantic suspense and more. I highly recommend this story and I will definitely be looking for more from this author.
Written for and posted first on The Romance Reviews.com.