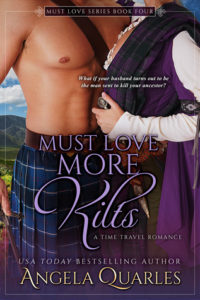 RATING: 5 out of 5 Stars
I LOVE this time-travel historical romance series! The new book MUST LOVE MORE KILTS (Must Love Series, #4) by Angela Quarles did not disappoint. This book focuses on the sister of the heroine from book three and the Highland warrior that she hand-fasts with the first night the sisters appear in the past. Their adventure can be read as a standalone, but there is overlap and I would recommend you at least read book three in the series first.
Fiona Campbell has always loved her family's Scottish history, myths and legends. She believes her own self-worth is in keeping her ancestors extraordinary deeds and history alive. When Fiona and her sister end up back in 1689 Scotland it is a dream come true. She can become the Fiona of family legend and save their ancestor's life and finally prove her own worth to her family.
Duncan MacCowan is a strong Highland warrior and faithful friend to the new laird, even though the laird's sister broke his heart and proved deceitful in his past. When Fiona drops into his life, he opens his heart once again, but she disappears on the night of their hand-fasting. He cannot believe he has opened up to two unfaithful women and will never believe his heart over his head again. Now as this story begins, recovering from a serious battlefield wound, Duncan is surprised to find Fiona returned and caring for him.
Fiona is focused only on the past and believes she has one only one purpose in her life which is to fulfill the legend which say she will save her ancestor from a MacCowan warrior with a specific scar, but the warrior she loves has that scar. She must remain at Duncan's side wherever he goes. Duncan believes he will never love again, but the attraction between these two just keeps building. Fiona and Duncan both must overcome their personal fears and work together to discover where their destinies lead them in their present versus family legend from the future and if they can tempt Fate for love.
This series just keeps giving me everything I want. The description of the Highlands and its people in 1689 and how two modern women deal with their time-travel. The author's explanation of the time-travel and parallel histories is interesting and lets me suspend my belief for the story. Fiona and Duncan are wounded and slow to communicate their feelings and yet extremely strong and fearless in other ways and fast to defend their family and friends. The sexual tension builds and there are a few steamy sex scenes that add to the romance perfectly.
I highly recommend this new book and the entire series! I hope there are many more to come.
Written for and posted first on The Romance Reviews.com.