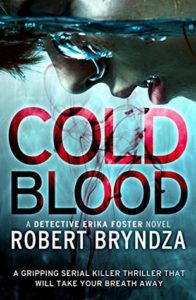 RATING 5 out of 5 Stars:
COLD BLOOD (Detective Erika Foster, #5) by Robert Brynzda had me turning the pages as fast as I could read them. This installment not only gave me my usual intense detective story, but more character development involving Erika, her personal life decisions and the contrasting study of the downward spiral of personal life decisions of an average young woman. This book alternates between the present investigation and the past evolution of the evil responsible for all of this violence.
Erika and her team begin working a gruesome case of dismembered bodies being found washed up on shore in suitcases in the present. Erika works the case with Moss at her side, while still dealing with guilt over Peterson, who is still on medical leave. The whole force must also, at the same time, deal with a major betrayal by one of their own which can have major ramifications far into the future.
As you follow the case in the present, you alternately follow Nina in the recent past. Every decision in her life moves her along a path of no return. Our lives change with every decision or fork in the road, every person we meet or fall in love with and this author has written a character that you cannot stop wishing for her to get a break or have someone intervene even with all the death and violence she participates in.
Mr. Brynzda has added more character development, moral and ethical decisions and depth to each main character in book #5 besides an interesting and fast moving investigation. This book is fast paced and engaging, but it is also more graphic in its violence than previous books in the series. He will definitely have me coming back for more.
Another great addition to this series!
Thanks very much to Bookouture and Net Galley for allowing me to read this eARC in exchange for an honest review.