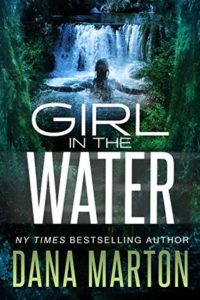 RATING: 5 out of 5 Stars
When I was asked if I would like to review Dana Marton's latest book, GIRL IN THE WATER, I agreed right away because she has always given me an all-around enjoyable and entertaining romantic suspense read. What a surprise I was in for! This story is more intense, dark, intricate and emotional than any of her previous works.
In the beginning of this story you are introduced to a man who only lives to drink and fight since his discharge from the Army. Ian Slaney blames himself for the death of his wife and twins while he was in Afghanistan. A world away in the Amazon rain forest, Daniela has grown up dirt poor, but happy with the dream of becoming a teacher. One day, a logger stops at her hut and Daniela is raped and becomes a prostitute like her mother. She is then trafficked to a whore house up the river when her mother drowns in a flood.
Their lives intersect with the murder of Ian's friend and Army buddy, Finch. Finch had bought Daniela from the whore house to cook and clean for him. When she returns to find a dead body, she stays and pretends nothing has changed so she won't have to return to her old life. But Finch has sent an S.O.S. out to Ian that he needs help and by the time Ian arrives he is dead. Ian must now deal with the mystery of Finch's murder and what to do with Daniela.
They return to the U.S. and four years of growth and major changes occur. Ian is sober and working for the Civilian Personnel Recovery Unit of the DOD. Daniela has graduated from college. The secondary plot then pulls them back to Brazil to the area of Daniela's youth for the recovery of a missing 7 month old baby of U.S. charity workers. The book takes off from here at a rapid pace revolving around stolen diamonds, helping trafficked children, and a romance that can no longer be denied.
Ms. Marton has written a romantic suspense novel that delivers a unique couple that both had to forgive themselves of their pasts to get to their HEA futures. It is also a unique and strong suspense novel filled with exotic locales, intrigue and danger. This is the third book in The Civilian Personnel Recovery Series, but is easily read as a standalone. This is a read that satisfied me on every level. This story is a banquet, not fast food. I recommend this book highly!