I have always loved sitting down with a well written historical time travel romance. I immediately step into the heroine's shoes.  As I follow her journey, I am also thinking of my responses to the same situations. Who hasn't dreamed of going back in time and meeting Jane Austin's Mr. Darcy, being saved from heartbreak by Jude Deveraux's Nicholas Stafford, or going on a grand adventure with Diana Gabladon's Jamie Frazier. The only problem has been that this subcategory in romance has had fewer and fewer options for me to read over the years.
I was so happy to be lucky enough to review a new to me author, Angela Quarles, who is writing wonderful historical time travel novels in a series called "Must Love Time Travel".  I have currently read and reviewed her first three books and I am anxiously awaiting her fourth in the series. I have given all of these books a 5 star rating!
She writes present day strong female heroines who travel to different time periods in the past to find the heroes they did not know they needed or wanted. I love that each story is set in a different time period and the decision must be made in the end of each book if the couple will stay in the past or return to the present day.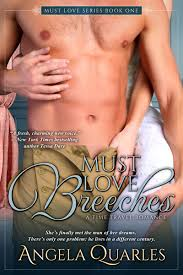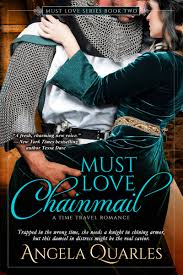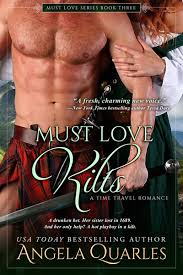 BOOK #1 – Must Love Breeches
Summary:
Isabelle Rochon has moved to London from Atlanta to work as an intern at the British Museum and is trying to get her life back on track after a failed relationship and the loss of her family. Dressed for a costume ball, she carries with her a silver calling card case from pre-Victorian times which sends her back to 1834. Her case is stolen and as she tries to retrieve it and navigate her new historical social situation she meets the "Vicious Viscount", Lord Phineas Montagu.
Lord Montagu is pretending a changed personality to seek revenge for his sister and all the ton now call him "Vicious Viscount", but Isabelle sees through this persona and is drawn to him. Phineas can't help but be intrigued by the "Original" from the Colonies. To further his plan, he wants Isabelle to be his pretend fiancé in exchange for his protection and help retrieving her card case. He knows Isabelle is keeping something from him, but he can't stop his growing attraction and begins to want Isabelle forever. The attraction is strong in both, but Isabelle feels she must return to the present.
BOOK #2 – Must Love Chainmail
Summary:
Katy Tolson cannot be without her smart phone or day planner. She must have order and control in all thing in her life. In just a few weeks she will be getting married, but first she is pulled emotionally to Wales with her bridesmaids for a pre-wedding trip. A wish she didn't mean to make on her friend Isabelle's calling card case sends her back to medieval Wales into the middle of a rebellion.
Sir Robert Beucol is a knight set on serving his King and regaining his family's honor and the lands his father's treason lost. Half-Norman and half-Welsh, he always has to be better than full-blooded Normans. He is about to show his complete loyalty by fighting his mother's people when a strange and mysterious wench appears suddenly in his life.
BOOK #3 – Must Love Kilts
Summary:
Traci Campbell, a computer game designer is on vacation with her sister, Fiona, in Scotland. She has never felt any love of her roots like her parents and sister. As the sisters try to reconnect, they get drunk on Glenfiddich and make a bet. Traci bets one hundred dollars that hot, Scottish men in kilts is a myth. And then she meets, Iain, a hot Scottish man in a kilt in the Highlands in the year 1689. She wakes the next morning with a severe hangover, back in the present, and her sister still in the past.
Iain MacCowan is treated as a joker and flirt by his uncle who leads his clan since the accidental death of his father and he does nothing to change that perception. When Traci returns to the past to find her sister, Iain feels something more than he ever has before for this stranger he vows to help, but his uncle distrusts this Campbell as the Jacobites are about to revolt. Iain has to help Traci, protect his clan and maybe reveal his true self to Traci and hope she wants to remain in the past with him after Fiona is found.
The author's research into the historical aspects of her books is extremely well done. Her plots are original to each time period. The romances are both fun and serious as each hero and heroine must learn what true love is before their HEA. This series is a must read for me and I hope it will be for you, too!