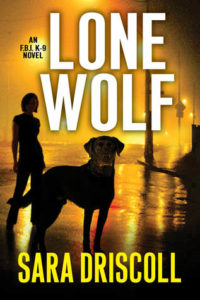 RATING: 5 out of 5 Stars
If I see a book contains a suspense plot and a dog, I am definitely grabbing it! LONE WOLF (FBI K-9 #1) did not disappoint. The first in a new series by Sara Driscoll takes you inside the FBI K-9 unit and focuses on Meg Jennings and her dog, Hawk.
The action in this book takes off at the beginning with a bombing via drone of a government building by the National Mall in Washington, DC. Meg and her black Lab, Hawk, are sent into the aftermath for search and rescue. (The author gives a very realistic description of the scene and the work this team would do together.) This is just the start of this bomber's agenda of revenge on government agencies he feels have destroyed his life. It is a race to find out who is behind this devastation and stop him before more innocents die.
The book is an easy to read thriller/suspense with a few graphic scenes of violence from the bombings. It is a page turner that will keep you engaged. Meg lives with her sister, Cara, who is a professional dog trainer and their dogs Hawk, Blink, a red brindle retired racing greyhound and Saki, a blue pit bull therapy dog. I especially loved this author's take on pit bull bans, because I live with two pit bull rescues that I love dearly.  
With Clay McCord, a reporter from the Washington Post and Todd Webb, a firefighter and EMT, you have a bit of possible romance in future books. There are also two other teams of FBI K-9s, Brian with his German shepard, Lacie, and Lauren with her border collie, Rocco. There is a lot of information besides plot in this first book. I would like to see future books in this series have more attention given to character depth, but besides that, I felt this was a great start to a new series I will definitely be following!
Thanks very much to Kensington Books and Net Galley for allowing me to read the eARC of this book in exchange for an honest review.