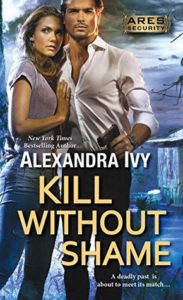 RATING: 5 out of 5 Stars
I got book two of the ARES Security series, KILL WITHOUT SHAME by Alexandra Ivy! Love these alpha friends who survived and escaped a Taliban prison and reading the romantic suspense each is featured in. Yes, there are a lot of these types of books out there right now, but Ms. Ivy gives you a fast paced read, entertaining mystery and a heroine who can stand up to and hold her own against her hero as they work out their relationship. Oh yeah, and hot sex!
Lucas St. Clair was born into a prestigious Shreveport family and was expected to excel and follow his father into a successful political career. His family had everything planned, but that future did not include Lucas' girlfriend, the family's gardener's daughter, Mia. Rather than have his family mold Mia into their version of acceptable, he drove away and left her behind.
Mia Ramon has never forgiven Lucas for leaving without a word and breaking her heart, but in the intervening 15 years she has built her father's lawn care business into a thriving high-end landscaping business. Lucas has kept track of her, but doesn't believe he deserves a second chance with her until a detective interviews him in Houston about their mutual high school friend found dead outside the ARES office building clutching Mia's picture. Lucas returns home to protect Mia at any cost and hopefully get her back into his life.
The men of ARES Security are all hot and sexy in their own way. Lucas being a born diplomat, but also well aware of his place in society and he will use it to his advantage. He can seem overbearing or arrogant at times, but Mia stands right up to him and goes toe-to-toe for what she wants. This is the difference between their relationship now and Mia trying to change for his parents approval before. I really enjoyed Ms. Ivy bringing Matt and Teagan in to help with this case. I can't wait for their stories and Hauk's mystery stalker continues from the first book.
Thanks very much to Kensington Books, Zebra and Net Galley for the free eARC in exchange for an honest review. Love this series!