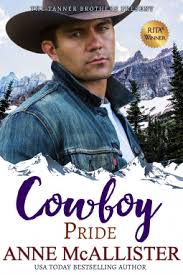 RATING: 4 out of 5 Stars
COWBOY PRIDE (Code of the West #5) by Anne McAllister is a second chance romance that is part of a contemporary cowboy romance series that can be easily read as a standalone. The strong, silent and brooding ranch foreman gets a second chance with his high school sweetheart and daughter of the ranch owner turned famous and talented artist after eleven years.
Widowed and pregnant, Brenna Jamison returns home to run her father's Montana ranch while he is in a nursing home recovering from a stroke. When asked if she could tutor a talented artistic child, Tuck, she agrees, but doesn't know what she will do if she runs into his uncle and guardian. He walked away from her once before and broke her heart.
Jed McCall cannot believe that Brenna is back home. He states he doesn't want anything to do with her, but when Tuck tells him of the troubles she is having on the ranch he goes over to check it out. He gets rid of her unreliable hired cowboys and rounds up her old friends to help her get the round-up done for the year.
Without knowing of their pasts, Tuck decides that Jed needs to marry Brenna so the child welfare people don't take him away from his uncle and Brenna needs a husband to help run the ranch and take care of the place while she is pregnant and give her the help she needs to bring her father home. They reluctantly agree to the idea for these reasons only, but they each have personal unstated hopes, too.
Brenna is a wonderful heroine. Talented, loving, caring and determined to find out why Jed walked away from her. She makes her life choices based on love and you are seriously involved with her finding love again. Jed is a good, caring protective, hardworking man, but he is not an outgoing or happy man. This hero had me sighing over how he took care of others and wanted to love, but he also made me want to shake him over how often he hurt others by not explaining why he walks away.
This is a quick read with minimal sex only in the final chapters of the book. I enjoyed the HEA for all the characters, but I was not satisfied with how long it took the author to get to Jed's true motivation for what he did. The story otherwise was satisfying read.
Written for and posted first on The Romance Reviews.com.