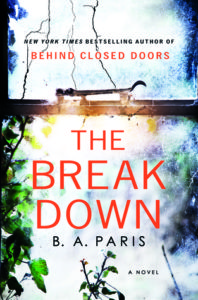 RATING: 3 out of 5 Stars
I was a huge fan of B.A. Paris' "Behind Closed Doors" and was anxious to read her next release.
THE BREAKDOWN was a letdown for me. I did finish reading it and was pleasantly surprised by a tiny plot twist in the ending, but the main character's overall responses and reactions to what was happening to her were repetitive and wore very thin by halfway through the book. I believe I would have enjoyed it more if it had been a tighter plot and novella length.
The story is told by Cass, who returns home on stormy night via a road through the woods. She almost wrecks avoiding a car pulled to the side. She stops, but when the driver doesn't come to her car, she continues home and forgets about it. She is later horrified to realize the woman in the car was a new friend that was murdered sometime later that night in her car. She is wracked with guilt and tells no one, not her husband or best friend, who worked with the murdered woman.
The reader also learns that Cass has been forgetting small things and is worried that she may be experiencing early onset dementia like her mother. This makes Cass a possible unreliable narrator. As she becomes more afraid and paranoid some of her reactions are just not believable. This is when I would have liked less Cass and fewer pages.
I finished to see if my assumptions were correct and they were. There are not that many characters in the story, so it is not hard to figure out, especially if you read a lot of this type of book. As stated earlier, there is a small plot twist at the end that did surprise me, but there is a lot of emotional drama to get through for the surprise. This was just an average thriller for me.
Thanks to St. Martin's Press and Net Galley for allowing me to read this eARC in exchange for an honest review.