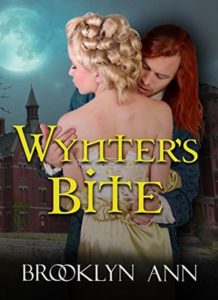 RATING: 4 out of 5 Stars
WYNTER'S BITE by Brooklyn Ann is a historical paranormal romance vampire read that is the fifth book in her 'Scandals With Bite' series. This story takes you on the run with a rogue vampire and the mortal love of his life throughout England. This fifth book can be easily read as a standalone.
Bethany Mead is a bluestocking and just being brought out at country house parties. Her father wants a political connection in Parliament and to be rid of his daughter whom he fears will inherit his mother's madness.
Justus de Wynter is scandalous and not looking for a partner, but he can't help but feel sorry for the young girl that the other debutants have set up for failure. As he dances with Bethany, he finds she has a love of literature and books just like him, besides being enchanting and as beautiful on the inside as on the outside.
No matter how much they come to love each other, he is a vampire and it is against their law to allow a mortal to know of their kind. Justus will break that law and Bethany accidentally blurts out the truth. Bethany is confined to an insane asylum and Justus is named a rogue and banished.
Eight years pass until Justus finds Bethany again. Together they are on the run across England to find a Master Vampire who will pardon Justus and let the couple be together and safe. On their fast paced trip across England they run into many interesting characters and trials as well as grow to know and love each other all over again.
This is an enjoyable and easy read. Justus and Bethany are definitely deserving of their HEA. I also love when either or both of the main characters love reading and books. The sex scenes are short, but steamy. This story also sticks to the old rules and laws of vampires which makes the historical setting perfect for the story. An overall entertaining addition to the series.
Written for and posted first on The Romance Reviews.com.