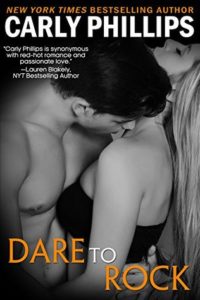 RATING: 4 out of 5 Stars
DARE TO ROCK (Dare To Love, #5) by Carly Phillips is the seventh book in this series of contemporary romances. Each book can be easily read as a standalone. The characters and books are tied together by one father with two families which are made public by the illness of one of the daughters.
Avery Dare is the youngest in the first family and was most affected by her father's scandal and desertion. She has become successful blogging online, which allows her to be in control of her surroundings and avoid stressful interactions and anxiety attacks. She receives an invitation to a concert from her famous high school ex-boyfriend, Grey Kingston.
Grey Kingston took off after high school to find fame and fortune as a rock star not caring about leaving behind his family or Avery. Now he is back home to stay, has quit the band and touring to set things right with his family and reclaim Avery, who is the only woman he has ever really loved.
Avery and Grey were perfect for each other. The personal issues that needed resolved by both were handled so well and with a lot of heart. Their sexual relationship was hot and steamy and not gratuitous. External plot problems of a crazy groupie and a sleazy manager were intertwined through the story and added just the right amount of suspense. This was a very satisfying installment in this series.