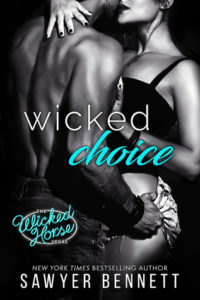 RATING: 5 out of 5 Stars
WICKED CHOICE (The Wicked Horse Vegas, #4) by Sawyer Bennett is one of the best erotic romances I have read! There are hot, steamy and erotic sex scenes throughout an amazing gender twist of a story that is strong enough to stand on its own even without the erotic sex scenes, but where would be the fun in that?
Rachel Hart is one of the best at her job and has the confidence of her teammates. She was a Winter Olympian biathlete and extreme sport junkie. She has never fallen in love and refuses to let anyone get close.
Bodie Wright is an ex-Navy SEAL who has traded in the strict regimentation of the service for the less restrictive and more lucrative job at the Jameson Group. A Nebraska farmboy, who loves his extended family, but is not really looking to settle down just yet.
After a mission together gone wrong, Rachel and Bodie cross the understood, but not written rule that team members at Jameson do not fraternize. Sure, they see each other having sex at the club, but never do team members do team members. Their one night of amazing sex turns into a pregnancy with major, life-changing decisions to be made.
Ms. Sawyer takes this situation and turns it into a very unique story by having Brodie step up and want the baby no matter how it will change his life and career, while Rachel is the one who decides to carry the baby for Bodie, but she does not want to continue in its life after the delivery.
Rachel is such a complex heroine who Bodie seems to effortlessly understand. As the erotic sex continues throughout the story so does the emotional roller coaster, tears and decisions. I loved these two characters! The secondary characters were just as realistically written and I hope to see more of them in future books.
The Wicked Horse is a sex club in Vegas which is the background for this series of erotic romances. It is frequented by several of the teammates from the Jameson Group, which is a private group of elite mercenaries for hire. The owner of the Wicked Horse used to own both, but he sold the Jameson group to his best friend. This story is the bridge book between strictly erotic romances set around the Wicked Horse and a new series planned by this author to focus more on the Jameson Group mercenaries using a romantic suspense format. Do not worry about it being the fourth book in the series because it can be read easily as a standalone and I cannot wait to go back and read the first books in this series.
Written for and posted first on The Romance Reviews.