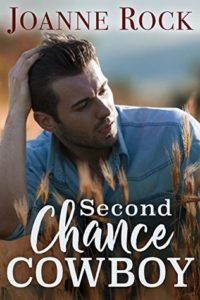 RATING: 4 out of 5 Stars
SECOND CHANCE COWBOY (Road to Romance Book, #2) by Joanne Rock is a second chance contemporary romance that demonstrates this author's seamless ability to immediately allow you to become emotionally invested in her characters and immerse you in the beauty and uniqueness of her settings. Even though this is the second book in this series, it is easily read as a standalone.
Larissa Martine left Cheyenne, Wyoming eight years ago for the bright lights of Broadway and a career in dance. It was a promise she made to her dying mother. But as she leaves, she also devastates the boy she loves in a text message.
After a possible career ending injury and on her way to an audition in Los Vegas, Larissa is detouring to her hometown to honor a pact between girlfriends, to make peace with past wrongs and hopefully clear the future to turn bad luck to good.
Matt Briggs thought he had it all. He purchased Split Fork Ranch next to his family spread and was ready to move ahead with the girl he loved. That was not how it worked out. Now Larissa is back and he does not want to hear about her regrets, but he does want her stay for his sister's wedding next week. The intense attraction is still there and maybe if they have one more night together it will give them both the peace with the past they seek, or they could repeat past mistakes all over again.
Larissa and Matt are both trying to live up to what they perceive that others wanted for them. The love and attraction has always been an easy part of their relationship, but the emotional communication between the two is difficult and lacking. Even though eight years has passed, they almost repeat their past and the author leads them towards their HEA in a realistic and believable way. The sex scenes are steamy and also emotional. The secondary characters where as well fleshed out and entertaining as the H/h. This is a quick read packed with emotion and what I expect when I read a book by this author.
Written for and posted first on The Romance Reviews.com.