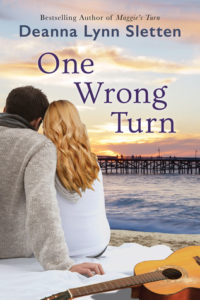 RATING: 5 out of 5 Stars
Sometimes an author can take the simplest plot and it will pack an emotional punch that resonates with the reader to their core. You follow normal, flawed people and you cry, get mad, become disappointed, have empathy, have sympathy, laugh and feel joy. That was the journey I took with Deanna Lynn Sletten's novel ONE WRONG TURN.
Jess Connors is renovating her grandparent's old home into a B&B as she raises her two daughters, Madison "Maddie", age twelve and Jilly, age seven. She has become a friend to many in the community over the last two years, but all it took was one wrong turn of her steering wheel as she was rushing to pick up her daughters after school to change all of their lives. Now Jess lies in the hospital in a coma.
Clay Connors has been estranged from his wife and daughters for two years until he receives the call notifying him of his wife's accident. Clay is a talented studio and live musician, but he also let his alcohol addiction destroy his family and his own personal belief in himself. After this third try at rehab and AA, Clay knew it was his last chance to prove himself to Jess. He was afraid to join them at the B&B and lose them forever, so he kept convincing himself to put it off for another day. Now he has to earn the trust of his oldest daughter once again, reintroduce himself to his youngest and remain sober under this stress while reuniting his family and waiting for Jess to wake from her coma, if she does.
The author writes Clay and Jess' meeting, courtship and family life up to their separation in flashbacks told by Clay interspersed throughout the story. Clay's alcohol addiction is written with truth and empathy. All his fears and failings are exposed, along with his daily battle to remain sober. The interactions between Clay and Maddie are extremely emotional because she was so close to her father and yet she was too young to understand what addiction is and so she has a severe lack of trust and a huge feeling of abandonment in regards to her father. The author offsets the difficulties with her father, with the care and understanding she shows her younger sister. Jilly is lovable, happy child who is trying to deal with all that is happening.
This book has the story of a couple that has always loved each other, but addiction divides them. For me though, the main characters that I empathized with and cheered to a happy ending were Clay and his daughter, Maddie. The dialogue is realistic as well as the emotions. All of the secondary characters were perfectly placed to add to the story, but never took the main focus off of Clay, his sobriety and/or his daughters as they dealt with their family in crisis.
This book is an emotional roller coaster that is beautifully written. The strength, love, perseverance and forgiveness of the characters will stay with me long after I finish this review. I am looking forward to reading more of Ms. Sletten's books in the future.