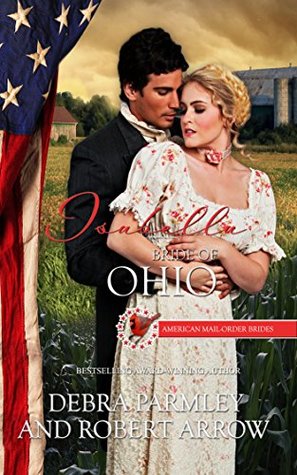 RATING: 4 out of 5 Stars
ISABELLA: BRIDE OF OHIO (American Mail-Order Brides Series, #17) by Debra Parmley is part of an interesting writing project. Fifty authors are writing a fifty book American Mail-Order Bride series that releases one book a day for fifty days.
Isabella Britta Stolt arrives from Sweden with her parents only to have them quarantined on Ellis Island and die. On her own at seventeen, she hears of work in a factory in Massachusetts. It is long and tiring work, but she has a roommate from Sweden and a few friends. Then the factory burns down. Luckily Isabella and her friends make it out alive, but now they must all make decisions for their futures.
A mail-order bride paper is passed around the factory girls and they decide to try their luck with the gentlemen they find to write to. Isabella writes to Donald Jenks, who seems to be a successful accountant in Yellow Springs, OH looking for a wife. His description of his home and life is everything a future bride would want, so she begins her journey to Ohio.
On the train to Ohio, Isabella meets two men; one who will try to kidnap her and one who will save her more than once. Thomas "Tom" Allenby is an undercover Pinkerton man working a case of missing women from the train. He is instantly taken with Isabella and comes to her rescue. He knows she is taken, but he will cross paths with her again in her future home.
This is not the typical mail-order bride romance where they live happily ever after. This groom is not who he seems and the story takes a major twist. There is a forced sex scene, but it is mostly described and not played out in present time description. Isabella is a woman of her time with few choices, but she has the resilience and strength to always move forward. I loved Isabella and was so glad she got the HEA she deserved in the end.
Written for and posted first on The Romance Reviews.com.