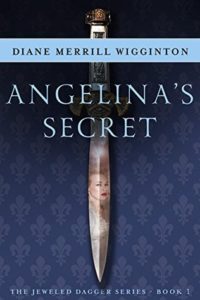 RATING: 5 out of 5 Stars
I love when I am asked to read a beloved genre book by a new to me author and can recommend it highly to others!
ANGELINA'S SECRET (Jeweled Dagger Series) by Diane Merrill Wigginton has everything I am looking for in a great historical romance read. A heroine who is true to her times, but independent and courageous set against a strong hero who is protective, but also values the heroine's unique character and a plot and subplot that have adventure and intrigue twisting throughout the romance that keep you turning the pages.
Lady Angelina Stewart was born into a wealthy English aristocratic family that allowed her independence and to be as well educated as her beloved older brother, Jonathan in a time when most young ladies only cared about beauty and titles. Besides her education, two other things set Angelina apart. She has a bit of the sight, or a feeling when things are about to change in her life and she never wants to be wed. She is determined to never be owned by a man.
Captain Jude Deveraux is sailing the open seas as a French privateer for his king after receiving an award and title for bravery during battle. The Captain is also the Duke of Bayonne. He and his best friend Honore' steal and plunder from unsuspecting ships and live for the adventure. A trap is set for the unsuspecting ship belonging to Angelina's father. The trip is a birthday gift for Angelina from her father with her uncle to trade for their company. When the feisty Angelina stands up to the Captain pirate sparks begins to fly. A wager is made for the return of Angelina's family ship and crew with safe passage if the cards favor Angelina.
Win or lose, Jude does not plan on letting the entrancing Angelina out of his life.
These two are meant to be together! Ms. Wigginton has written a hero and heroine that will be remembered long after the book is done. The secondary characters are also well developed and interesting. Set in the 18th century, my only slight problem with historical references was the white wedding gown. (Although possible, the white wedding gown didn't become popular until the 19th century when Victoria wore one.)
This is a well written and entertaining historical romance, full of action, adventure and great characters. This is definitely a book and author to read and follow!