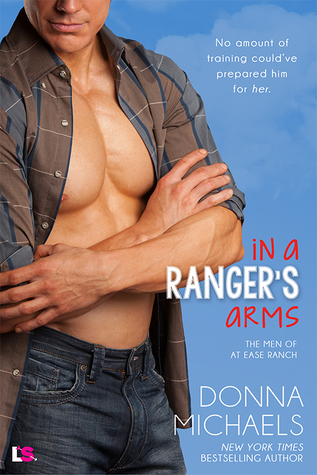 RATING: 5 out of 5 Stars
IN A RANGER'S ARMS (The Men of At Ease Ranch, #1) by Donna Michaels has a ranch full of hard bodied, ex-military men, a curvy and intelligent heroine, smart, snappy and flirty dialogue and a love struck cow named Lula Belle.
Former Army Ranger Stone Mitchum has big plans for the Texas ranch and construction company he, his brother and two of their Ranger friends have bought to help ease the transition for ex-military men back into society. Stone is a born leader who personally shoulders the guilt for any problem and especially when one of their close buddies tries to commit suicide. He has put his own personal life on hold to devote all his attention to the ranch and men, until he has a run in with his new tenant. His mind might say no, but his body is ready to go.
Jovy Larson is in a contest with her cousin for control of her Grandfather's company. She has four weeks to show the most profit, but there is more to this contest. Jovy has to run a gluten-free, vegan restaurant in Texas cattle country. As she is hanging her sign for her restaurant, The V-Spot, a crazy cow comes charging towards her ladder. Luckily Stone is there to catch Jovy and save her from harm. Jovy wants her surly, and sexy landlord immediately, but she wants to win control of her Grandfather's company, too. They both know she will be gone in four weeks. Surely they can keep their hands off each other for that long.
What makes this romance POP is the dialogue. It is completely natural and true to life. Every snarky, sweet, emotional, funny comment fits the character and that moment in the story. Jovy is a strong, intelligent business woman who has a heart of gold and is open and honest. Stone is the strong leader who takes too much responsibility for things he can't control. Ms. Michaels brings these two together is a heartwarming and sexy hot romance that has you cheering them on throughout the story. I am looking forward to the other men of At Ease Ranch meeting their perfect matches.