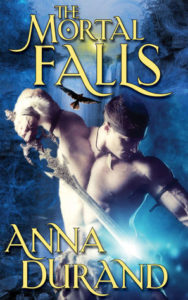 RATING: 3 out of 5 Stars
THE MORTAL FALLS (Undercover Elementals, Book One) by Anna Durand is the first in her new fantasy romance series. This story is full of mythical supernatural characters in a parallel realm to ours, a steamy romance and murder.
Lindsey Porter finds a dead body in the woods. From there things get a little crazy for her. An almost naked man runs from the scene and disappears. When the sheriff shows up, the body is gone, but a blood pool remains. He hauls Lindsey in as a suspect and we learn she has a past with this sheriff who has followed her from Texas.
Nevan is an immortal sylph and the almost naked man who keeps popping from thin air into Lindsey's life. He was turned into a Guardian when trapped into a bargain a century ago by his king, Skeiron. Linsey has to trust this magic wielding man to help her solve the murder she is charged with and both need to learn to trust each other with their pasts. The fate of the mortal and elemental realms depend on these lovers.
The dialogue between Lindsey and Nevan in the first part of the book is somewhat juvenile. I didn't care that Lindsey was a 32 year old virgin, I felt she should have been more mature in her language and attitude, virgin or not. That said, the relationship between these two takes off when they have sex. The sex scenes are hot and steamy and what I expect in an Anna Durand book.
The beginning of the story has a lot of world-building and character backstory, which I feel bogged down the first part of the book. The interesting characters and their interactions kept me reading on. It was a good fantasy read and a steamy romance read.
Written for and posted first on The Romance Reviews.com.