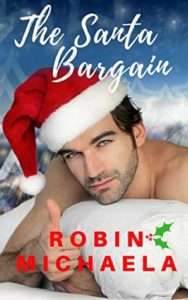 RATING: 4 out of 5 Stars
If you want a quick to read, feel good, contemporary Christmas romance, then you have to read THE SANTA BARGAIN: A Small Town Christmas Romance by a new-to-me author Robin Michaela. It is festive, sweet, funny, sad and steamy all wrapped up to a HEA in just 257 pages.
Maria Thompson is starting over in a small Colorado town of Copper River. She is starting her own coffee shop, raising her 5 year old son, Zach and has sworn off all men after her son's father walked out on them two years ago. Maria is talked into organizing the first Christmas festival to bring tourists to town after devastating wildfires nearly destroyed it. When the sexy carpenter working on the town's shops runs into Maria, she may just have to rethink her no men policy.
Joe Sinclair was raised in the foster care system after the death of his parents. He learned never to get attached to anyone because they all just left you. There seems to be something different about the coffee shop owner though that attracts him against his better judgement. She is smart, curvy and loves Christmas. She has a small child. He should be running in the other direction, but he just cannot stay away.
Maria makes Joe a promise that if he will play Santa for the Christmas festival, she will be his naughty elf afterwards. Their pasts may get in the way of their new relationship unless Santa can bring them together for a Merry Christmas.
Maria, Joe and Zach are wonderfully real characters that worm their ways into your heart. The sex is hot and steamy, but never gratuitous. There is nothing new in this plot, but the characters and dialogue make it memorable. An enjoyable standalone read for the holiday romance lover.
Written for and posted first on The Romance Reviews.