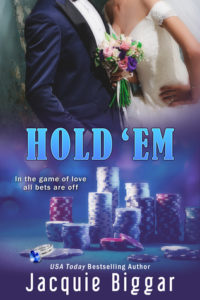 RATING: 5 out of 5 Stars
HOLD 'EM: A GAMBLING HEARTS ROMANCE by Jacquie Biggar is a contemporary romance that has a cast of characters that are heartwarming, caring, funny and just all around wonderful! The hero and heroine find they have an instant attraction and even though they are opposites, they both have caring hearts and strong family attachments.
Matthew "Matt" Shaughnessy is a high-stakes poker player winning his way up to the World Series of Poker. Just when he thinks he may have lost a huge stakes game, his opponent cannot cover his makers. What Matt needs is a fiancée to make his dying grandmother happy so a deal is struck.  Gardner offers in payment his daughter's heirloom wedding ring and one week of Cassandra playing his fiancée on his family's Texas ranch.
Cassandra Gardner knows her father has a gambling problem, but she never imagined it would lead to her playing the part of a finance on a ranch with a stranger, when she is supposed to be getting married in two weeks in Las Vegas to someone else. She is a city girl through and through and knows nothing about ranching or the great outdoors. She also has very strong feelings against lying to Matt's grandmother, family and friends who accept her on sight.
Matt has one week to convince his grandmother he is settling down and found the love of his life, which if he keeps enjoying Cassandra's looks and spirit may be true in reality, but can he keep her on the ranch? Cassandra cannot believe the intense feelings that started as annoyance and now are so much more for this cowboy, but she has a fiancée waiting in Vegas.
Ms. Biggar has written an easy to read, heartwarming, sexy and funny, opposites attract hero and heroine that could walk right off the page and into your heart. There is sexual tension throughout, but Cassandra never breaks her promise to her real fiancée and there is no sex in the story. Matt's grandmother, brother and sister and his care of them all and the ranch at a young age shows the depth of his character, while they are all interesting characters on their own.
Right now this book is a standalone, but the story definitely is set up for Matt's brother and sister to have their own stories in the future. I really hope they get them because this is a family that I want to check back in with in the future.
Written for and posted first on The Romance Reviews.com.