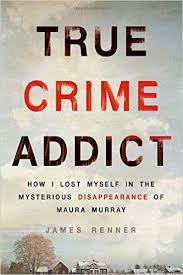 RATING: 5 out of 5 Stars
This book was not what I was expecting; it was so much more! It is the personal story of an investigative true crime reporter, James Renner, and the cold case disappearance of a UMass student, Maura Murray, from a rural New Hampshire road. Both stories intertwine with each being intriguing, sometimes disturbing, and completely compelling as we follow the search for Maura and Mr. Renner's descent into a dangerous true crime addition.
James Renner has had a lifelong obsession with true crime beginning with his following of the Amy Mihaljevic case when he was just eleven years old. He turned that obsession into a career as an investigative journalist and true crime writer. Mr. Renner is open about his problems with PTSD due to his delving into the dark side of crime and as he investigates the 2004 disappearance of Maura Murray it also effects his judgement, personal well-being and family. Maura's story isn't all it seems and the questions become an addiction to Mr. Renner, his online followers and me, as the reader.
This is a must read for the true crime lover. It is also a candid look into the mind of one of the addicted that try to solve these mysteries. Maura's story is still unsolved and gives all who read this story a chance to come to their own conclusions based on the information given.
Thanks very much to St. Martin's Press and Net Galley for allowing me to read this ebook in exchange for an honest review. It was my pleasure.