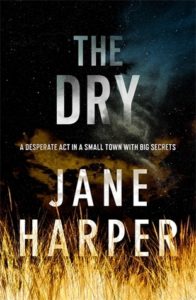 RATING: 5 out of 5 Stars
A present day family tragedy, a twenty-year-old unsolved death and an environment that can go up in flames with one spark all ramp up the tension, anger, suspicion, danger and suspense in Jane Harper's debut novel THE DRY.
Twenty years ago Aaron Falk and his father were run out of their home and off their farm in Kiewarra, a small farming community in Australia. Ellie Deacon was found drowned and even though it was ruled a suicide, Aaron was rumored to be involved in her death. His best friend Luke Hadler gave him an alibi, but his name was found on a note in the dead girl's room. Aaron never wants to return to the community.
A call from Luke's father brings Aaron, who is now a Federal Police investigator in Melbourne, back to Kiewarra for the funeral of Luke, his wife and small son. Everyone believes the pressures of the drought made Luke snap and kill his family before killing himself, but Luke's parents just can't believe it and ask Aaron to look into it for them. The local policeman, Sergeant Raco is new to the area and he is having some doubts with the ruling of murder-suicide himself. Aaron and Raco start to look more closely at the case and start to uncover buried secrets and lies.
Many in the community still believe Aaron lied about is alibi and the same forces that chased him before are back to pressure him into leaving again. He is harassed constantly again, which leaves him looking at the same foes as before and it could be clouding his judgement and perspective on the current case. Are the two, past and present cases connected or is it just coincidence? Aaron and Raco work together to find the truth before the town ignites.
This book was so well written, I find it extremely hard to believe it is a debut book. Ms. Harper gives the reader not one, but two intriguing mysteries that intertwine throughout the book with well-placed flashbacks that never interrupt the story's narrative. All of the characters are complex and fully fleshed. The pressures of a farming community on the edge due to an extended drought makes the environment as important as any character. This book is a must read for lovers of mystery/suspense books!