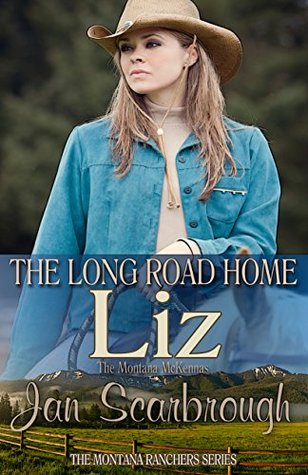 RATING: 5 out of 5 Stars
LIZ: THE MONTANA McKENNAS (The Montana Ranchers #7) by Jan Scarbrough is a wonderful read to wrap up the blended McKenna family series of romances. I enjoyed reading James' children and stepchildren's romances and was very happy Ms. Scarbrough has also written a HEA for his widow.
Liz McKenna has watched her children and stepchildren fall in love and start to live their own lives after the death of her beloved husband James eighteen months ago. She has taken up hobbies, moved into a smaller cabin, and run the dude ranch for the season, but she still has a deep feeling of unhappiness.
Liz's daughter-in-law, Stephanie's ebook "Under Montana Skies" is semi-autobiographical about everyone's lives on the ranch since James death and has become a best seller. Her agent wants the best screenwriter/producer in Hollywood to turn it into a movie or cable TV series. The girls conspire to get Charles Kingston to read the book and visit the ranch.
Charles "Chaz" Kingston has become fed up with the Hollywood lifestyle. His ex-wife is trying to get their daughter on her reality TV show and his younger brother has committed suicide after his divorce and declining career. He wants a change and the offer of two weeks in Montana on a closed for the season dude ranch sounds perfect. What is he is not expecting is the beautiful and down to earth widow who runs the ranch.
I loved Liz and Chaz! A mature romance always has so much extra baggage, both mentally and externally, that can complicate the story and Ms. Scarbrough added just the right amount of both. As in the other books in this series, it is short and yet not short on romance. I truly enjoy all of these books for a quick, but heartfelt romance read. The sex is behind closed doors, but the affection is not. Another wonderful addition to the series.
Written for and posted first on The Romance Reviews.com.