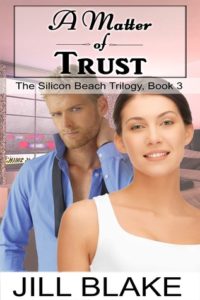 RATING: 5 out of 5 Stars
I was a little nervous going into this story because it is the third in The Silicon Beach Trilogy, but the blurb said it could be read as a standalone and it was correct.  WOW! A MATTER OF TRUST was a very well written contemporary romance from a new to me author Jill Blake. I will definitely be going back to get books one and two!
Klara Lazarev has a full plate and no time for romance. She is working on her senior thesis testing innovative educational software that she designed for preschoolers at a prestigious day care. She runs into Vlad accidentally as he is a business associate of her brother-in-law. She has always thought him gorgeous, but after his drunken behavior at a wedding two years previous and now not even remembering who she is, that is enough to make her want to avoid him.
Vlad Snezhinsky is a Russian born and Western educated venture capitalist. He excels at both his job and being a single dad to his daughter, Lora. He is still entangled in a messy divorce with a woman who lied about Lora's parentage to escape Russia. The last thing he is looking for is a relationship, especially with a younger woman related to his business associate.
The budding romance between Vlad and Klara is suddenly put in jeopardy by the murder of Vlad's soon to be ex-wife and her boyfriend. Vlad is afraid for his family and is also worried about the fallout for Klara, but Klara believes in him and his innocence. The romance moves forwards and grows as the two let the authorities work the case. No amateur sleuths here.
This romance flows and grows over time with the story. Vlad and Klara were perfect for each other and Lora. The sex scenes were hot! There are a lot of little background elements going on throughout this story and the author was adept at bring them all together for a very satisfactory conclusion. I am looking forward to reading more from Ms. Blake.
Written for and posted first on The Romance Reviews.com.