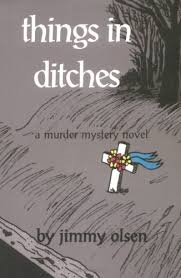 RATING: 5 out of 5 Stars
THINGS IN DITCHES by Jimmy Olsen is a murder mystery that had me savoring every quirky and eccentric small town character, feeling the cold of a Minnesota blizzard and sympathizing with the murder suspect. I thoroughly enjoyed Mr. Olsen's writing style and the surprising twist at the end.
Philip "Dutch" Cleland is Willow River's butcher and self-confessed murderer of the beautiful and naked corpse found in a ditch. Turn himself in, commit suicide or flee? I loved reading his decision making process and subsequent actions that follow.
Meanwhile, the very colorful cast of characters that are draw into the mystery had me turning the pages with a laugh or for worry about violence against them. You never knew what these characters had in store for them and it made reading this story so compelling. All of the characters are three dimensional and you could visualize them being truly alive and interacting in this small town.
This book has a plot that is full of twists and had me guessing throughout. The true ending in the epilogue was brilliant.
I highly recommend this book for anyone, not just mystery readers. I cannot thank Mr. Olsen enough for gifting me a copy of his book in exchange for an honest review. It was truly a book that I enjoyed on so many levels.