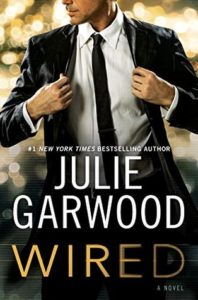 RATING: 3 out of 5 Stars
I was excited and surprised to see WIRED (Buchanan-Renard, #13) by Julie Garwood made available by Net Galley. I enjoy this series, but I have not read the more recent books until I requested this one. It was an O.K. romantic suspense, but not my favorite in the series. The suspense plot was well integrated and interesting with several subplots, but I had some problems with the H/h's romance.
Allison Trent has a brilliant mind that can solve complex puzzles and problems. When she discovers computers, there is no program she cannot fix or hack. This is her escape from an aunt and uncle who have raised her sister and her after their parent's death. She is also beautiful and is a model for a local designer part-time. Allison's main fault is complying with people who take advantage of her rather than confronting them.
Liam Scott is a hot shot FBI fixer. His missions are all secret and he travels the world. He does not believe he will ever be willing or able to settle down in one town with one woman. He is assigned to recruit Allison for her super computer skills.
As in any romantic suspense, this would begin the back and forth romance dance, but Liam comes into Allison's life and then disappears repeatedly. Allison keeps letting him back in and then regretting it when he is gone. He reappears to solve a problem or save Allison from bad guys and starts to realize he cannot stay away from her, but they never share their feelings until the end of the story. This is just not the type of relationship I hope for when reading this type of book.
For me, this is book was not up to my expectations from previous books in this series. The way Allison thinks was interesting, as was the suspense plot. The romance was lacking for me.
Thank you to Berkley Publishing Group and Net Galley for allowing me to read this eARC in exchange for an honest review.