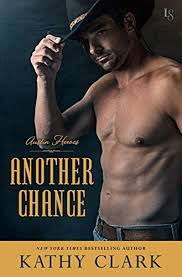 RATING: 5 out of 5 Stars
Kathy Clark's third book in her Austin Heroes trilogy, ANOTHER CHANCE, was not only an exciting and heartfelt addition to the series, but completely blew me away!
Another Chance has lovers reunited and not just the hero and heroine, a believable and chilling suspense scenario and everything all tied up with a satisfying HEA. This book can be read as a standalone because Ms. Clark deftly introduces just enough backstory so as to not completely confuse the reader.
Luke Archer, the youngest of the three Archer brothers, works in D.C. for Homeland Security. A desk jockey who pours through intel every day to keep our southern borders safe. He has been assigned to a case in the field since it is a threat that is happening right in his hometown. Terrorists are crossing the border into Texas with other illegal aliens as cover through the ranch of Luke's ex-high school girlfriend, Bella and a deadly plot is in the works.
Bella Shaw has never gotten over the young love of her life who she believes dumped her, but has grown into an accomplished attorney who fights for all underdogs and has risen to be a Texas state senator. When Luke reappears after 14 years, all the old feelings return as they have to work together on Bella's ranch to discover and eliminate the terrorist threat.
The suspense in this book was realistic and could have been ripped right from today's news. The romance was written beautifully and at times was heartbreaking when you learn of the deceit that tore them apart. Grammy's backstory of fame and love found and then lost also ripped into my heart. This author knows how to write about love, forgiveness and second chances.
Thank you very much to Random House Publishing Group-Loveswept and Net Galley for allowing me to read an eARC of this book in exchange for an honest review. It was excellent!