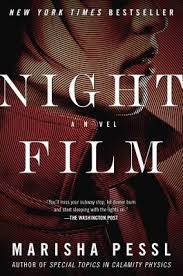 RATING: 5 out of 5 Stars
NIGHT FILM by Marisha Pessl is the perfect book for October! Part horror, part mystery, part psychological suspense and all around thought provoking, intense read. This one will stay with you for quite some time.
The beautiful, talented and some say disturbed, Ashley Cordova is found dead at the bottom of an empty elevator shaft in a deserted building in lower Manhattan. She is only 24 years old. Was is suicide or was it murder?
Veteran investigative journalist, Scott McGrath has been discredited in the past while investigating Ashley's father, famed film director, Stanislas Cordova. After a few main-stream films, Cordova disappeared into legend as an underground film director of horror cult classics and a recluse from all society. His life and films are wrapped in darkness, witchcraft, horror and life-changing fear.
McGrath just can't let this death go. Ashley haunts him. He is driven by revenge, curiosity and a need for the truth that will either destroy him and the ones he loves or set him free.
This book had me engrossed! I loved how the mystery is handled with the reader receiving pictures of all the documents, photos and web pages that McGrath is privy to while investigating the Cordova family. You are masterfully led by this author from extreme skepticism to believing in everything that goes bump in the night and back again. The characters are all fully fleshed and believable. This author knows how to involve the readers' emotions in every way! Great read!