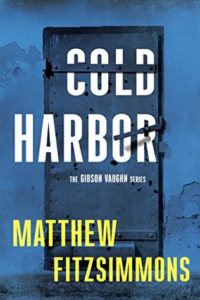 RATING: 5 out of 5 Stars
COLD HARBOR (Gibson Vaughn, #3) by Matthew FitzSimmons satisfied this fan immensely!
Even though I do not enjoy cliffhangers, Gibson Vaughn just got under my thriller loving skin and I had to keep reading on in the series. I am so glad that I did. I had no idea how Mr. FitzSimmons would get Gibson moving forward from book #2 to book #3, but he managed it with the additional emotional satisfaction of giving Gibson a sort of completion and happiness that he so deserved.
Cold Harbor begins with Gibson trying to regain control of his mental and physical health after being released from a CIA black-ops prison. For 18 months, all he had were the ghosts of his father and Suzanne to keep him company. As Gibson tries to return to the world of the living, the author continues to throw roadblocks in his way so that he can only go forward and not back to his old life. Gibson's old friends return at just the right time to assist him by using him to assist them.
Many questions are answered and relationships resolved from the previous books, not always to the good, as the plot picks up pace to the thrilling conclusion.
This book is as intriguing as it is thrilling and I just love the Gibson Vaughn character. This is not a series that should be read as standalones out of order. Each book builds on the last and all the characters and situations are like a giant web.
Thanks very much to Thomas & Mercer and Net Galley for allowing me to read this eARC in exchange for an honest review.