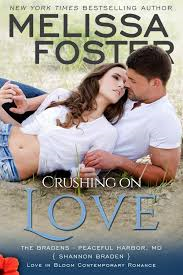 RATING: 5 out of 5 Stars
When it comes to contemporary romances with realistic characters, an emotional love story and smokin' hot sex, author Melissa Foster always delivers!
CRUSHING ON LOVE is the fourth book in The Bradens of Peaceful Harbor series.  All can be read as standalone books, but you won't want to stop at one.
Book four focuses on Shannon Braden who is always optimistic, sweet and fun. She has returned to Colorado to see if the sparks between her and Steve Johnson, who she met on her first fox research trip and at her cousin's wedding can lead to more. She wants time away from her family, even though she loves them all dearly, to decide on her future career and life without her family hovering.
Steve Johnson loves his solitude living up in the Colorado mountains and working as a ranger and wildlife consultant. That solitude has been invaded once again by the beautiful and people loving Shannon. As much as he wants her, he doesn't do casual relationships and she plans to return home in a few weeks.
Steve wants to conserve a large ranch next to the national park, but he doesn't have the money. Shannon has the online crowd sourcing knowledge, but he feels it is begging. They need to work together to make Steve's dream a reality and it just might lead to what Shannon desires both personally and professionally.
At first, I really wondered how these two were going to be able to come together, but leave it to Ms. Foster to make it all work out in the end. Mountain man Steve "Grizz" and Shannon "Butterfly" have very appropriate nicknames for each other and they both ended up convincing me they are perfect for each other and deserve their HEA. Other characters make guest appearances from Ms. Foster's other series and it is easy to follow the connections. The sex in this book is extremely hot and well incorporated into the story. It does include oral and anal sex.
Take the time to read Steve and Shannon's story and I know you will love it as much as I did!
Written for and posted first on The Romance Reviews.com.