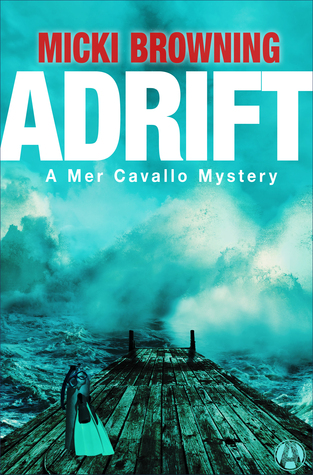 RATING: 5 out of 5 Stars
Well, another new author has me hooked by her debut mystery for her series.
ADRIFT (A Mer Cavalllo Mystery #1) by Micki Browning features Dr. Meredith "Mer" Cavallo, a marine biologist, currently working as a safety dive master in the Florida Keys as she waits for a funded research position. On a normal afternoon tourist group dive, Mer rescues a man five miles from the boat he came out on, who swears he doesn't know how he got there and he saw a ghost on the wreck of the USS Spiegel Grove.
Mer needs money and is financially bribed into a night dive with a paranormal group filming a documentary trying to prove the existence of the ghost on the USS Spiegel Grove. The dive goes terribly wrong and Mer stands to lose all of her scientific credibility because she believes she saw a ghost as she tries to save one diver while she loses another. The police are suspicious of Mer because she was involved in both incidents surrounding the wreck and she knows she has to clear her name if she is to have a chance to return to academia and she refuses to believe in ghosts.
This story has mystery, suspense, surprising plot twists and a great lead character.  Ms. Browning leads you down one path, only to twist and turn you onto another, always with facts and logic. I have never been to The Keys or been diving and yet I was never bored or lost as the logistics and technical elements were woven into the story. Mer is a character that at first was a little too cold for me, but as I got to know her through a past love interest (who is going to be an interesting story himself), her brothers and mother, you realize that she isn't really cold, just intellectually brilliant and socially inept, similar to Dr. Brennan from the Bones series. I am now hooked and need to know what path Mer will follow in the future. Hopefully the next book will be out soon!
Thanks so much to Random House Publishing Group-Alibi and Net Galley for allowing me to read this eARC in exchange for an honest review. Looking forward to more in this series.