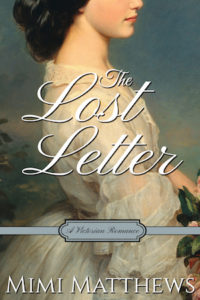 RATING: 5 out of 5 Stars
THE LOST LETTER: A VICTORIAN ROMANCE by Mimi Matthews is a beautifully written historical romance set in the Victorian era. The story flows between the hero and heroine, past and present, as they are given a second chance at love. The story is captivating and only a little longer than a novella. I just kept turning the pages and was done before I knew it in just one sitting.
Sylvia Stafford was the beautiful and charming daughter of a Baron. She had many suitors, but the man who claimed her heart was a dashing career Calvary officer and second son of an Earl. Before his return to India, Sylvia shares a chaste kiss with her dashing soldier and gives him a lock of her hair. As Sylvia waits for her word from her love, her father's gaming debts become too much and he commits suicide leaving Sylvia with nothing and no one. Sylvia becomes a governess to a merchant family away from the society and friends she grew up with.
Colonel Sebastian Conrad returns from India a badly scarred and tormented man. He retreats to his family's estate to hide. His father and older brother have died and that leaves Sebastian as the Earl. One day, his little sister is visiting and spies on Sebastian crying over a lock of hair and asks his man-servant who it belongs to and after some questioning finds where Sylvia now resides as a governess and invites her to Hertfordshire to help her stop her brother from doing something drastic.
The two are reunited, but under very different circumstances and each believes the other did not truly share the same feelings three years ago. As the two each learn truths about the intervening years, their love begins to grow once again, but will it be enough to clear up all the misunderstandings and let these two have their HEA?
This is an extremely romantic and emotional story in all its simplicity of plot. The characters are so realistic and just walk off the page and into your heart. This love story will stay in my memory for some time to come. This is a definite keeper that I can highly recommend.
Written for and posted first on The Romance Reviews.com.